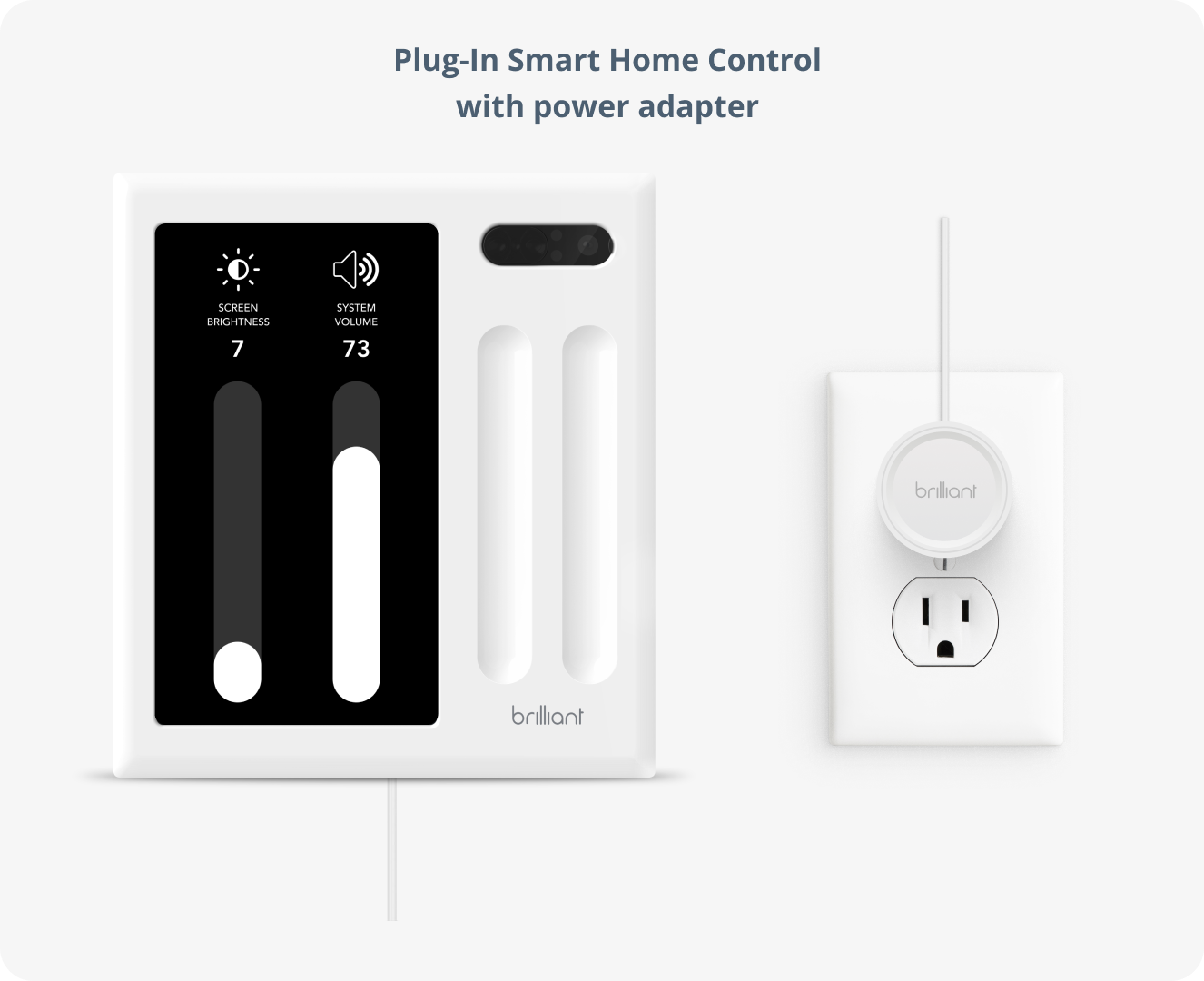 How easy is it to install a Brilliant Plug-In Control?
The Plug-In Smart Home Control can be configured using the Brilliant Mobile application instructional guide.
You will need to add or join a home via the iOS or Android mobile app
Install a Brilliant > Select "2-Switch Panel" > "My device has a power adaptor (low voltage)
Continue the the steps to mount your device onto your wall.
The plug-in Brilliant control is easy to install in 5 simple steps:
Select a place to install your control

Install your power cable to your baseplate

Mount your baseplate to your wall

Plug in your power cable to the provided power adaptor

Install your faceplate

Additional notes: You must have a 2.4Ghz Wi-Fi network available for setup
Requires a plug within 13 feet of where the control is mounted.
Power cable can run along the wall or inside the wall
What can I control with a Brilliant Plug-In Control?
The Brilliant Plug-In Control, by default will control the following:
Left Slider will control the device's system volume
Right Slider will control the device screen brightness
If you have compatible smart home devices in your home, you can change your slider settings to control lights and other devices
Examples include: Turning on/off/dimming your Phillips Hue lights and adjusting the volume of your Sonos speaker
How is this different from the Wired Brilliant Control?
A standard Brilliant Smart Home Control is wired directly into your household electrical wiring. It will have a gangbox that is wired into your wall and you can press a button to turn on and off your light when you remove the faceplate. This connects directly to your home power and lights.

A Brilliant Plug-In Smart Home Control, will only have a small low-voltage power cable connected to the back of the Brilliant faceplate and will be plugged into your power outlet and connect to your smart home devices via wifi.

The Plug-In Smart Home Control comes in the 2-Switch Model only, and is meant to function identical to the Brilliant 2-Switch Control (High Wattage), but only connecting to loads via wifi/bluetooth.
You can read more here
If you are unsure if your device is a Plug-In Smart Home Control, you can contact customer support at support@brilliant.tech to help you.
Do I need to have a Wired Brilliant Control to have a Plug-in Control or other Brilliant devices?
No, the Plug-In Control can act as the primary smart home control panel to connect all your smart devices.
If you would like to directly wire your fixtures to your Brilliant Control, you can also purchase the Brilliant Wired Control
How can I mount a Plug-In Brilliant Control to my wall?
There a multiple ways to mount the device to your wall depending on where you would like to place your device.
1. If you will be mounting the device onto drywall, you can use the drywall anchor and screws provided in the packaging.
2. If you will be running the power cable into your wall using a junction (or gang box), you can use the additional screws provided in the packaging.
3. If you will be mounting your device to plaster, you will not need to use the drywall anchors provided. The mounting screws provided are self-tapping and can be drilled directly into your wall without anchors.
How can I run the power cable for the Plug-In Brilliant Control to my power outlet?
On-Wall cable - you can run the cable on top of your wall from the faceplate towards your power outlet
In-Wall cable - you can drill a hole behind your baseplate and run the cable downward towards your power outlet
Default Slider Settings
The default settings on the Control are configured to dim the brightness level of the Control screen on the first slider and the system control volume as the second slider.
These settings can be updated on the Brilliant Control settings and through the mobile app.
Does Plug-In Control work with Smart Dimmer Switches?
Yes the Brilliant Plug-In Control is able to be your primary home control and can work with your Brilliant Smart Dimmer Switches to create your Brilliant smart home ecosystem.
What smart home products can I connect Brilliant devices to?
We support a wide variety of smart home products, and are always adding new partners. Our primary connection method is to use Wi-Fi for partner products like Sonos, Ring, Google Nest, Ecobee, Honeywell, Philips Hue, Wemo lights, August Lock, and smart plugs, and more. If you would like to connect to smart locks like Schlage, or already have Z-Wave or Zigbee products, we also support hubs from SmartThings so you can control them from a Brilliant. Amazon Alexa is already built in, so you just need to connect to your Amazon account. You can also use both Google Assistant/Google Home and Apple HomeKit devices to voice control the lights. See all partners