Set up Alexa Voice Assistant and the Alexa Smart Home Skill
After you have completed the following steps, we can optimize your experience on your Brilliant Control for Alexa.
If you have not already done so, please complete the below instructions:
Create Smart Home Device Groups
Any of your Alexa enabled devices can be set up in Smart Home Groups so that when you instruct Alexa to control a set of devices, it can be done in one statement - like "Alexa, turn on Living Room".
Brilliant is an Alexa-enabled device and can be included within these groups.
For detailed instructions on how to set this up, please read more here.
Using Brilliant Scenes on Alexa
Once you have your Alexa Home Skill configured with your Brilliant account AND you have set up some scenes on Brilliant, you can start activating these scenes by using Alexa.
Try saying:
"Alexa, turn on scene <brilliant scene name>" (e.g. "Alexa, turn on scene all lights on").
For more detailed instructions, please read more here.
Using Alexa Routines on your Brilliant
If you have any Alexa routines set up using your Alexa app, start using your Brilliant to activate them. Learn more about this feature here.
Adjusting Alexa Responsiveness among your Alexa Enabled Devices
Because we are an Alexa device, we work as part of your Alexa connected devices. If you have multiple devices, it will operate using Amazon's Echo Spatial Perception to determine which device it will respond from. You can learn more here.
Visit Settings > Works With Brilliant > Amazon Alexa.
When the Voice Assistant is enabled, you will see an option for "Wakeword Options", under which a slider can be tuned to increase sensitivity for Alexa. You can adjust the likelihood that Brilliant will respond amongst your Alexa-enabled devices here.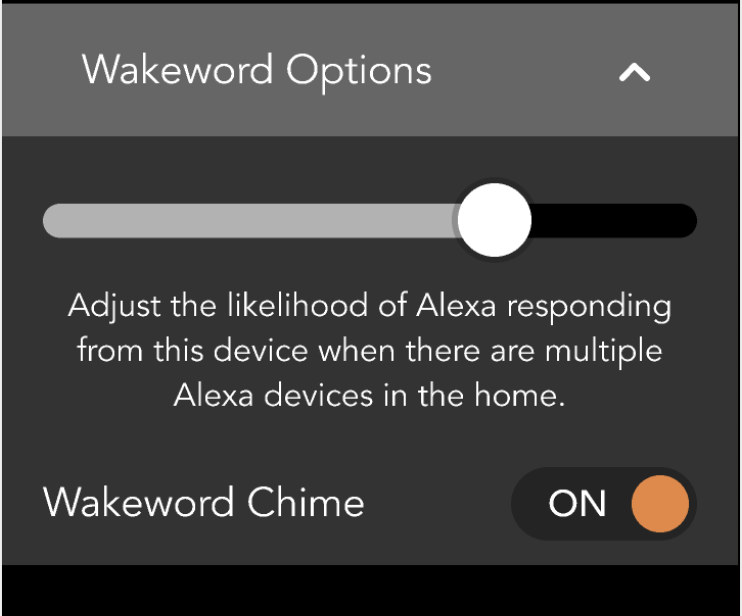 Setting Alexa Volume on your Brilliant
Visit Settings > Audio to adjust the volume on your Brilliant and Alexa experience.
Alexa Announcements
Alexa announcements work with Brilliant. This means that you can say "Alexa, announce..." and this announcement will be broadcast across your Brilliant Control(s) and any other Alexa-connected device(s) in your home.
Note: You must be signed in to Amazon on your Brilliant Control(s). To do this, simply tap on the Alexa shortcut in the bottom tray of your Home Screen, and sign in with your Amazon account.