Notifications when someone rings your Ring doorbell
If someone rings the Ring doorbell, we will display a notification on the Brilliant Control that will allow the user to do one of three actions:
Talk: Talk to a person on the other side of the Doorbell
Lock/Unlock Door: Lock or unlock a smart lock that is connected to your Brilliant home. Note that supported smart locks are denoted on the Integration Support page
Dismiss: Dismiss the Notification
Live Video on your Ring Devices* in your Home
Before you try accessing your Ring Device's live video, please ensure that Live View is set up to be enabled within your Ring Mobile App.
Please try the below instructions after you confirm Live View is enabled on your Ring device*:
From the Home Screen, tap on Cameras
Tap "Live View" on your Ring device
Loading Video from Ring
Brilliant will attempt to load video from Ring for Doorbell and Live View requests.
As of v21.08.18, Brilliant will also attempt to show a recent snapshot from that device before the video has loaded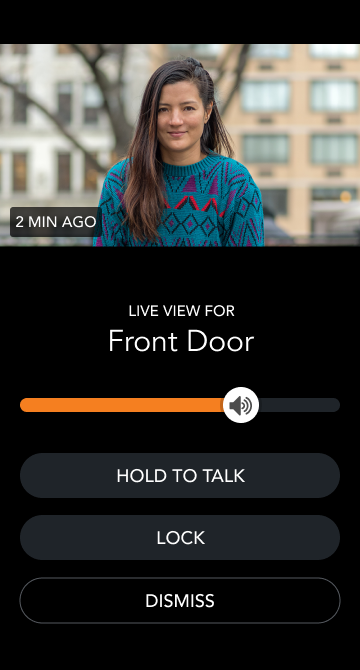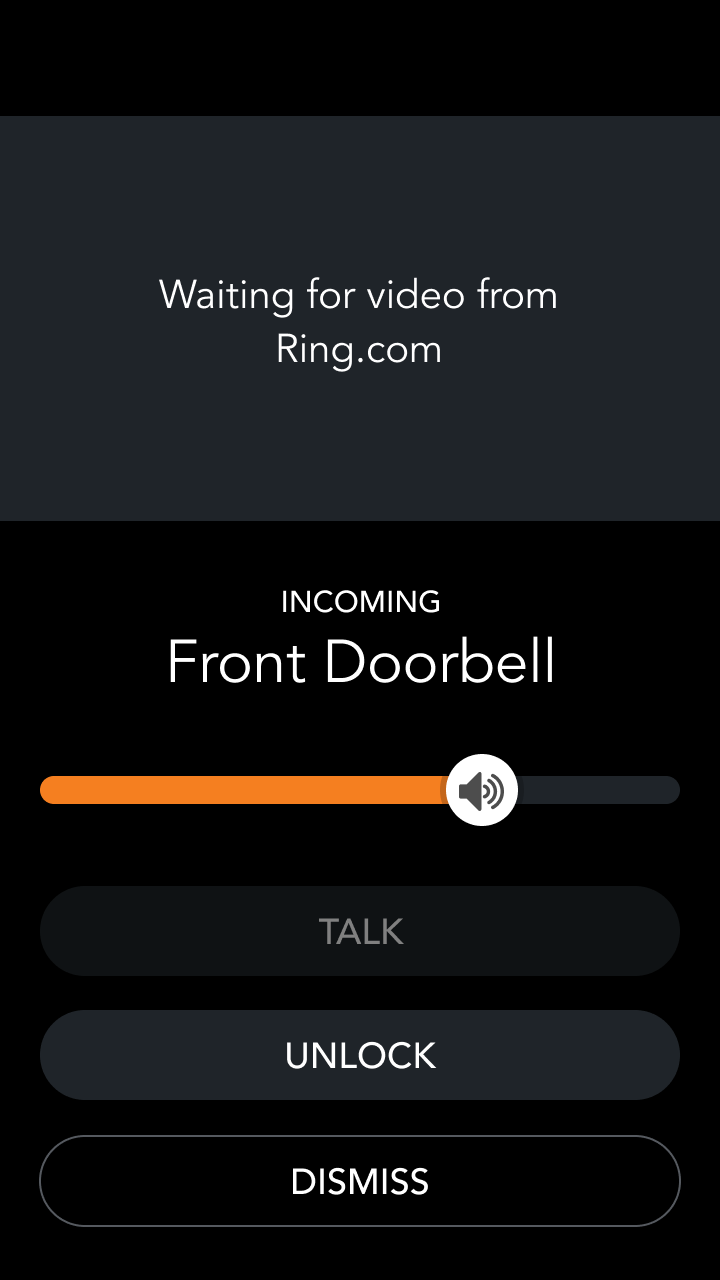 Important Notes when Integrating
Any of Ring's doorbells are supported (hardwired or battery powered) but we do not yet integrate with any of the other accessories.
Ring DOES NOT work with any partner devices (including Brilliant) when End-to-End Encryption is turned on. If you have this enabled on your Ring device(s), the Brilliant <-->Ring Integration will not work.
Doorbell notifications only work when the primary Ring account is linked to Brilliant

. Shared accounts linked to Brilliant will only have access to Live View.

* Supported Ring devices are listed here
Setting up a Chime on your Brilliant Home when your Ring Doorbell is rung
You can set the Ring to chime (once, twice, or thrice) each time a Ring Doorbell Notification appears, on all Brilliant Controls within that home.
To set this up, please follow the directions below:
From the Home Screen, tap on Cameras
Tap the Edit pencil in the top right
Select the Edit pencil next to your Ring Doorbell
Under Device settings, view the Doorbell Chime section
Select the option you would like (between once, twice, and thrice) and follow the remaining screen instructions to save.
Finding Ring Devices* in your Home
During your setup of adding your Ring device* in your home, you assigned it to specific rooms.
Please visit that room to find it. Currently, we only support interaction with your Ring device when there are notifications from a person ringing the doorbell or if you request to view live view for the Ring device*.
Setting up your Ring Device* with Brilliant
Before you begin set up, make sure your Ring Device* is set up through your Ring app first and connected to the same Wifi as Brilliant.
Tap "Add New Device" from the bottom bar of the Home Screen
Tap the option with "Ring."
Follow the instructions on the screen to log into your Ring account.
Follow the remaining screen setup instructions and note the room(s) assigned to the Ring device.
Ring Alarm and Alexa
You can also control your Ring security system using Alexa on the Brilliant Control.
Enable the Ring Alexa Skill using a PC or the Alexa mobile app

Arm/disarm your Ring Alarm when you are either Home or Away by saying the following:
Alexa, arm Ring. (defaults to Home Mode)
Alexa, arm Ring away.
Alexa, disarm Ring.

To check your home's status, you can say:
Alexa, is Ring armed?
Additional Options and Troubleshooting for your Ring device on Brilliant
Please visit Advanced Settings for your device to remove or reset your Ring configuration on your Brilliant.
If you have issues with your entire Ring Integration, please try resetting the entire integration and re-adding your devices to your Brilliant.
To re-assign rooms for your Ring device, follow instructions here.