How does Brilliant integrate with Philips Hue?
We integrate with Philips Hue via their Philips Hue bridge and allow you to control hue devices in the following ways:
Light Intensity
Toggle On/Off
Color
Include Hue devices in your Brilliant scenes
Installing a Brilliant Control in a location that is directly connected to Philips Hue bulb(s)
If you happen to install your Brilliant Control in a location that is connected to a Philips Hue bulb, we enable you to never have to worry about power being shut off to the Philips Hue bulb. Just go into your Light Settings on your Brilliant control and reconfigure the correct light to say "Always On", and adjust your Philips Hue through our integration. 
Philips Hue Groups Support
As of 1/3/2019, Brilliant supports Hue light groups on your Brilliant. Groups will be discovered in the same manner as your Hue bulbs (by going through the Add Device flow listed under "Setting up Philips Hue"). 
You may continue to create a scene for automation across multiple Hue devices/groups OR use the 2-finger gesture to control all lights within your room. 
Philips Hue Color Support
As of 7/17/2019, Brilliant supports changing the color of your Hue light through your Brilliant Control. This feature is only compatible with Hue ambiance lights. Color control also works with Hue groups as long as the group consists of at least one Hue ambiance light. Support for Hue color in Brilliant scenes is coming soon. 
To change the color of your Hue light or group, follow the instructions below: 
From either the Room or Device List on your Brilliant Control, you will see a color indicator that shows the current color of your Hue light. 
Simply tap on the color indicator to choose a different color for your Hue light.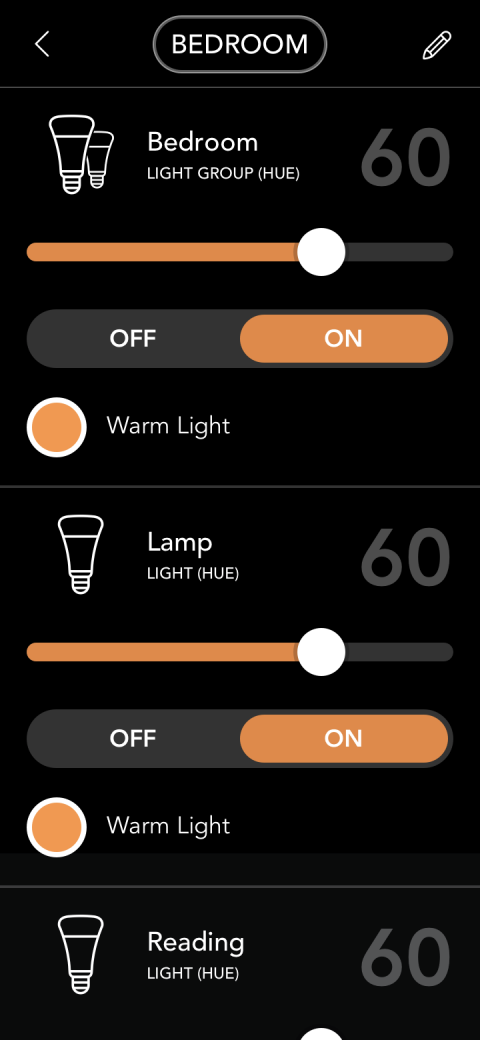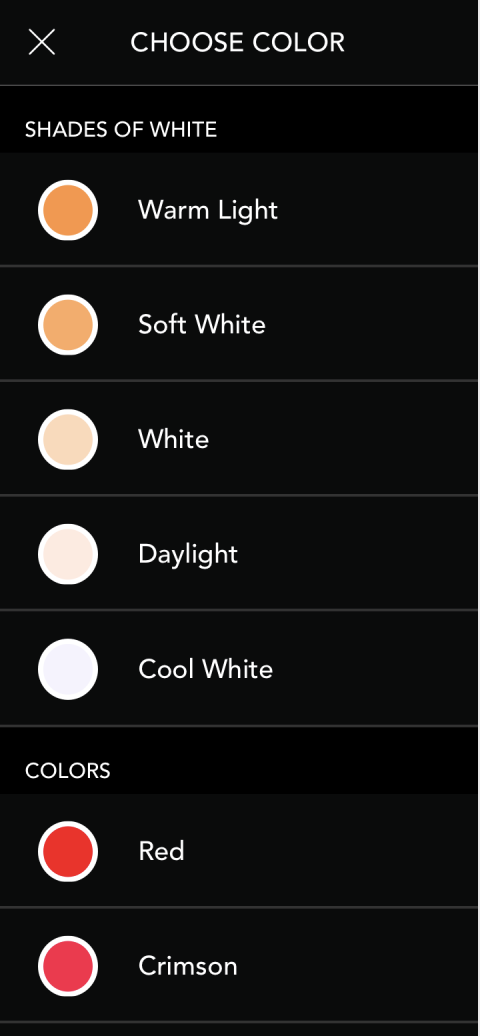 Setting up Gestures and Sliders
Refer to the following articles:
Setting up Philips Hue:
Before you begin set up, make sure your Philips Hue is set up through your Philips Hue app first and connected to the same Wifi as Brilliant.
1. Tap "Home". 
2. Choose a room. 
3. Tap "Add New Device"
4. Tap "Philips Hue Lights/Bridge"
5. Follow the instructions on the next screen.
6. Once the device is found tap "Continue" and follow the remaining steps on the screen.
Deleting Philips Hue from the Room:
1. Tap "Home". 
2. Choose a room. 
4. Tap the button that looks like a pencil on the top right corner to edit.
5. Tap the trash can to the right of the device name.
6. A window will pop up, "Are you sure?" tap "Yes".